Tessa Masterson Will Go to Prom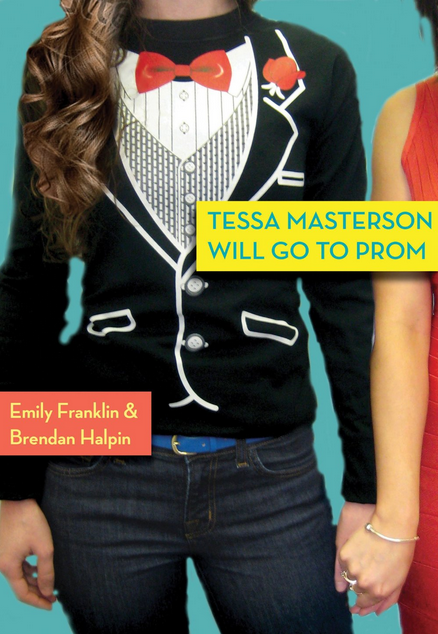 "Falling for your best friend" gets a makeover in this fresh, funny coming-out story.
Lucas and Tessa's friendship is the stuff of legend in their small Midwestern town. So it's no surprise when Lucas finally realizes his feelings for Tessa are more than friendship and he asks her to prom. What no one expected, especially Lucas, was for Tessa to come out as a lesbian instead of accepting his heartfelt invitation. Humiliated and confused, Lucas also feels betrayed that his best friend kept such an important secret from him.
What's worse is Tessa's decision to wear a tastefully tailored tuxedo to escort her female crush, sparking a firestorm of controversy. Lucas must decide if he should stand on the sidelines or if he should stand by his friend to make sure that Tessa Masterson will go to prom.
Named to the 2013 Rainbow List
Reviews

"This well-constructed novel is told in alternating chapters by Tessa, a young woman who gathers up the courage to come out of the closet during her senior year, and Lucas, her lifelong best friend. Tessa believes she has dropped sufficient hints about her preferences so Lucas will get the point. When Lucas asks Tessa to the prom through the local supermarket's twenty-foot illuminated sign, the sting of her refusal is a little hard to take. That incident and the fact that Tessa has asked her girlfriend Josie to the prom quickly become news in the small Indiana town. Lucas's initial anger is misrepresented as antigay rhetoric, which adds fuel to the fire of bigoted citizens that want to bar Tessa from the dance. The beauty of the novel is how deftly Franklin and Halpin weave in so many unexpected consequences of Tessa's decision. Lucas feels betrayed more than dismissed, then struggles to correct his initial selfishness. Classmates who could care less about Tessa's lesbian status blame her for turning their rite of passage into a media spectacle. Tessa's parents' family business is threatened by boycotts—by folks who refuse their patronage on principle or just because they do not want to deal with picketers. Tessa, never one for the limelight, is a reluctant poster child for the gay rights movement. It is more than just unfortunate that books about gay and lesbian teens suffer the same discrimination as the people they describe. The large and growing genre no doubt is dismissed by a large population of readers, much like the talented individuals they also dismiss. Franklin and Halpin's Tessa Masterson Will Go to Prom is an excellent example. This is a novel about hard decisions, unexpected consequences, the meaning of real friendship, and the elusiveness of true love. It is a great story with a delightfully surprising and satisfying conclusion."

– VOYA

"High school seniors Lucas and Tessa have been lifelong friends, but when he asks her to the prom she turns him down, revealing that she is gay and has a girlfriend. Angry at this rejection and that Tessa kept something from him, Lucas betrays Tessa's secret and even gives a mean interview to the school newspaper ("[O]ur whole Prom is going to be about her instead of being a normal dance"). There are protestors outside Tessa's parents' grocery store, the school administration is threatening to expel her, and the school board may cancel the prom. Franklin and Halpin's third he said/she said collaboration (following Jenna & Josh's Fauxmance and The Half-Life of Planets) will have readers empathizing both with Lucas's desire to "make things right" and Tessa's pain as she deals with hate in the hallways and at home. Lucas's ultimate "grand gesture" is farfetched, but it's also a fun release after an emotional story about the struggles gay teens often face and what it means to be a friend."

– Publisher's Weekly

"This is a great book that explores what can happen to a friendship when it's tested and the struggles that some people face in modern-day America. The story spreads the message that we must accept everyone in our society. Lucas and Tessa's friendship journey is especially heartwarming and easy to relate to. The dialogue is much like a real teenager's and the sarcasm of the characters makes you love them more and more. The cover of the book is also very chic. I hope for more books like this one."

—SCHOOL LIBRARY JOURNAL